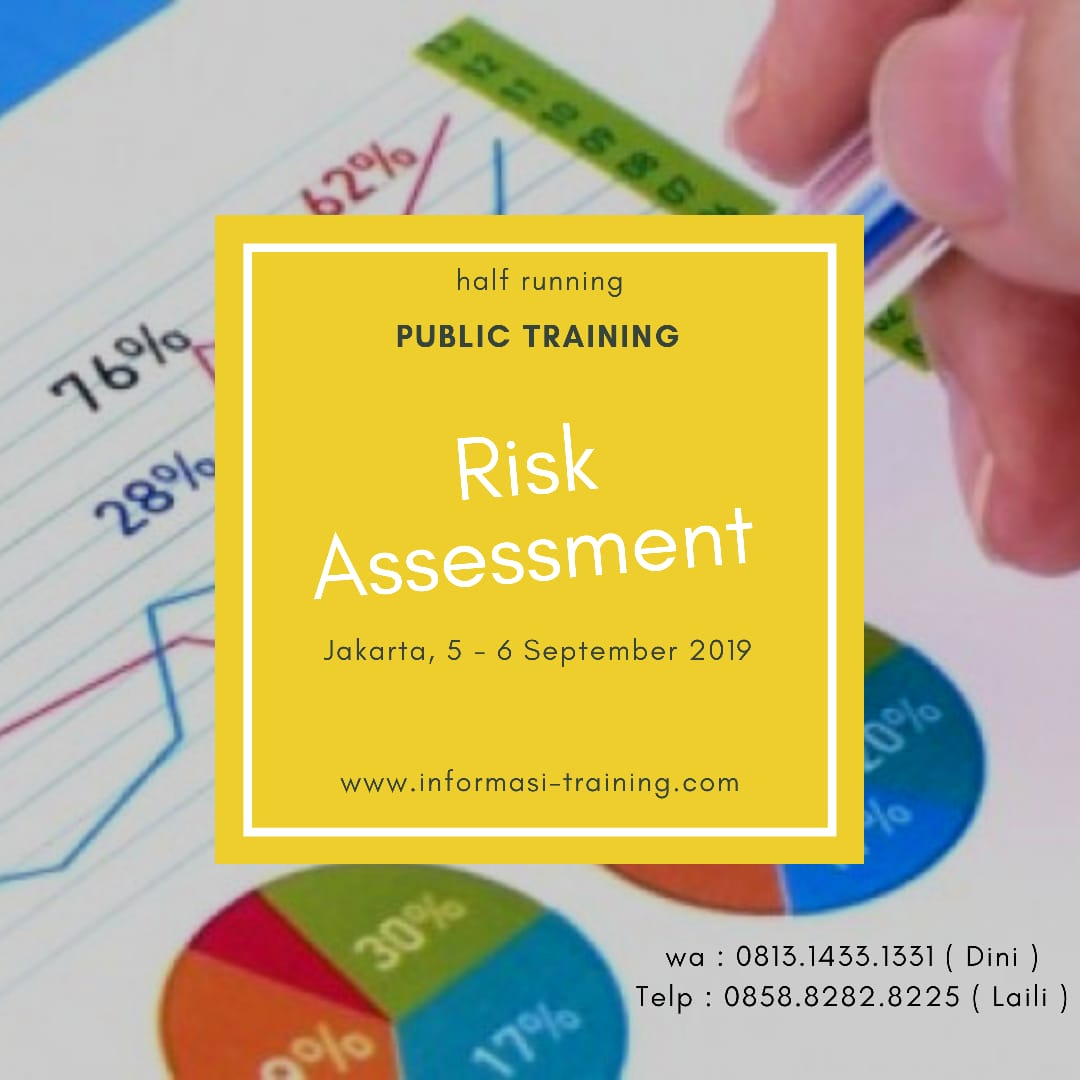 Risk Assessment adalah metode yang digunakan untuk memeriksa apa yang menjadi risiko bagi orang-orang di tempat kerja 
Hotel Ibis/ Dreamtel, Jakarta | 05–06 September 2019 | Rp 5.000.000,-
LATAR BELAKANG TRAINING RISK ASSESSMENT
Risk Assessment adalah metode yang digunakan untuk memeriksa apa yang menjadi risiko bagi orang-orang di tempat kerja sehingga keputusan dapat dibuat, apakah kontrol yang cukup ada atau tindakan tambahan diperlukan. Melengkapi penilaian risiko dengan benar akan mengurangi kemungkinan terjadinya risiko di tempat kerja. Training ini dimaksudkan untuk dapat memahami proses penilaian risiko agar dapat menyelesaikan penilaian risiko di tempat kerja sendiri secara efektif.
MANFAAT TRAINING RISK ASSESSMENT
Memperkenalkan karyawan tentang proses Risk Assesment.
Meningkatkan pemahaman risiko di tempat kerja, bahaya dan tindakan pengendaliannya.
Memberikan pengalaman pelatihan yang sederhana, fleksibel dan interaktif bagi karyawan.
Pelatihan standardisasi untuk semua staf.
Menerapkannya dalam pekerjaan guna mengurangi biaya administrasi.
PESERTA TRAINING RISK ASSESSMENT
Setiap individu yang memiliki tanggung jawab untuk melakukan risk Assesment.
MATERI TRAINING RISK ASSESSMENT
An introduction to risk assessment
Legal requirements
Hazards
Risks
Business environment
Objectives of risk assessments
The five stages of risk assessment
Practical exercises.
PEMBICARA TRAINING RISK ASSESSMENT
Rachmat Sumedhi, SE, FMAcc, MM
Adalah lulusan Magister Science of Management (Finance), National University – Indonesia, Fellow of Master of Accountancy, Charles Sturt University, Wagga Wagga Australia, Sarjana Ekonomi Universitas Katolik Atmajaya Jakarta. Saat ini beliau menjabat Chief Financial Officer di Indonesian IT, Engineering and Construction Services Group of Companies, pernah menjabat General Manager – Operation di Japanese Financing Company, Senior Consultant/ Country Financial Controller di PT Austraining Nusantara (Indonesia Office), Consultant World Bank, Consultant perbankan, BUMN dan perusahaan-perusahaan swasta , serta pernah bekerja pada salah Bank di Indonesia,  Dosen tidak tetap pada Universitas Riau, Universitas Nasional, dan STIE Perbanas Jakarta. 28 tahun berpengalaman sebagai konsultan manajemen dan 21 tahun sebagai pengajar Training-training, seminar-seminar dan Inhouse Training di bidang  Manajemen, Keuangan, Risk Management, Operational, HR and Development Programs pada perbankan nasional ataupun swasta, BPD, BUMN, perusahaan swasta dan lain-lain. Beliau juga mempunyai pengalaman bekerja di berbagai negara seperti ROC Taiwan, Sri Lanka, Singapore, Hongkong, Australia dan PNG.
INVESTASI TRAINING RISK ASSESSMENT
Rp 5.000.000,- (Lima Juta Rupiah) belum termasuk pajak.
Investasi sudah termasuk :
Sertifikat keikutsertaan.
Coffe Break 2X dan Lunch.
Seminar Kits.
Seminar Bag.
Modul

Discount 10% apabila pendaftaran group minimal 5 orang dari perusahaan yang sama (untuk satu pelatihan dan waktu yang sama).
Pelaksanaan training akan diselenggarakan apabila telah mencapai quota peserta 4-5 orang.
Konfirmasi pelaksanaan training akan dilakukan 3 (tiga hari sebelum tanggal pelaksanaan).
TRAINING RISK ASSESMENT